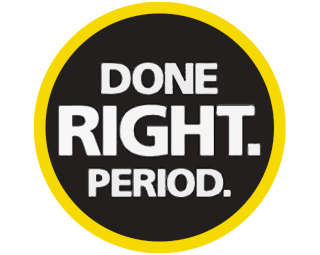 Done Right. Period.
It's more than a slogan. At Tuffy, we stand behind our work and promise that it will be Done Right. Period, or we'll fix it for free*.
Learn more.
Nationwide Warranty
We pride ourselves on our expertise and standing by our work. That's why each purchase receives at least 24 month / 24,000 mile national warranty - whichever comes first. Twice the dealership and industry average!
Learn more.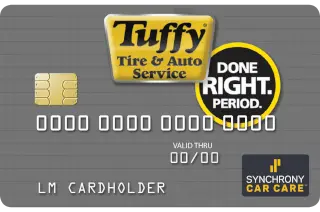 6 Months Special Financing
6 months special financing on purchases of $199 or more with your Tuffy Credit Card. No annual fee. Convenient monthly payments.
Learn more.
*Subject to credit approval. Minimum monthly payments required. See store for details.
Tuffy Flint (Miller Rd.) - Complete Automotive Repair and Tire Center
We service all makes & models, foreign and domestic, cars & trucks. Our certified technicians are trained to perform auto repair services including: air conditioning testing & repair, brake diagnostics & repair, preventative maintenance, exhaust diagnostics & repair, transmission replacement & repair, wheel alignment, fluid service, oil changes, tire rotations, engine service and much more.
Tuffy Auto Service Center takes pride in offering Senior Citizen, AAA, and Active Military Discounts. Call the shop for more details.
Tuffy Flint (Miller Rd.) in Flint services the needs of Burton, Flushing, Grand Blanc, Ortonville, Swartz Creek, and Byron Center.
On this site, you will find great auto repair specials which update each quarter so check back often. Also, don't forget to sign up for our monthly eSpecial offers, exclusive auto repair deals for our email customers only.
Need quote for services for your vehicle?
Save time and Request a Quote. Complete the simple form and we'll contact you via email or phone call.


HONESTcan i say that again? -> HONEST! raely do you find an auto repair thats honest &saves you $$- these guys did just that more than once-i took my truck tothe rip-off place knarock next to HD &they wanted 538$ to fix what they claimed was a broken tans mount-i had asked for my bad u-joint to be replaced also on the same quote-kanrock wanted 300$++ for the additional service-total bill wd have been over $800-!!! Went to tuffy on miller rd &the master mechanic (jason) asked me: who told you the trans mount was broken? he then informed me it wasnt broken but missing 4bolts-he put the bolts in free &i authorized him to replace the ujoint-he did 2 u-joints for around $255! they saved me so much $ i bought them lunch-shortly after this visit my truck was running good &i went in for an oil change-the oil change place did somthing to my truck that made it run rough, missing, running lean-i actually thought my truck jumped the timing belt-so back to tuffy i went to let them tell me what was wrong-the other master mechanic got involved this time &showed me the oil change place had accidently knocked off a vacuum line &he reattached it (FREE) & the truck was good to go! drove away with my truck running great &thinking about how i was ready to drop another 5-800$ to replace the timing belt &WOW i bought them a pizza for lunch again based on how much they saved me-do yourself a favor if your tired of dishonest shystey auto repair-go to tuffy &then you can writeyour own review-&please buy them lunch if they saved you a bundle like they saved me-whatever you do DO NOT go to the ripoff pad your bill kanrock next to HD-they will try &sell you canuder valves or tell you your chrome plated muffler bearing is causing all the trouble! go see don or dan at the front desk at tuffy &let his master mechanics save you $fixing only what needs to ve fixed &not bumping/padding the billto their advantage-HONEST GUYS! Is all i can say- -true story bro-

Russell C

Feb 21, 2020 – Flint Twp, MI
HONEST! that is the only word i can describe totell people about these guys-if you are looking to have auto repairs done and not get raped by shystey dishonest rip off auto service these are the guys you need to go see-from the first time i went in here they saved me $ because when i went to pay my bill they actually tols me it was less! whatauto repair does that-they will only charge you for what needs to be fixed and they have top notch certified guys like jason&john-thes guys have saved me $on more than one occasion &i bought them lunch the savings was so great-i went to the ripoff place Kanrock/monroe next to HD on corruna &theytried to charge me 358$to replace ONE ujoint-in addition kanrock told me i had a broken trans mount &that wd be an additional 500$ & somthing dollars-i went to tuffy &jason the master mechanic told me the trans mount was missing all the bolts(4) he did it free & then went on to replace BOTH myujoints for $255! i cant stress enough these guys are honest &do an honest days repair-not selling you chrome plated muffler bearings or kanuder valves like kanrock tried to do-i went back to tuffy again when my engine was missing badly &i thought my timing chain jumped & was ready to replace the timing belt for 5-800$ &again john the other master mechanic found i had a vacuum line off & within 15minutes reattached it &i was on my way -FREE again! another lunch earned imo-anyway if you need major or minor auto repair these are the HONEST guys you NEED to go see-ive went thru at least 4-5mechanic shops in the last 2yrs &every one was total rip off charging me for uneccessary repairs , parts, &service-at the end of the day i would NEVER go to any other auto shops around flint except these guys-they have earned my respect &lifelong business shd i ever need any more-please give these guys a shot then you can write your own review of how good they were-&by all means if theyve saved you hundreds even thousands like they saved me please buy them lunch-they deserve it &all the business they get-top notch service, mechanics, &front desk (dave/don) counter help-theyre NOT going to tell you your kanuder valve is bad &will cost you $3000 to replace like knarock/monroe ripoff will-stay TF away from kanrock &do yourself a favor & go see the guys at tuffy for fair proffessional complete auto repair-these guys saved my life im a carpenter &theyve kept my truck repairs honest resonable &efficient so i can keep working &pay my bills-tuffy miller rd shd be everyones go-to repair shop in &around flint twp-ALL the other places i have went around the twp raped me on repairs &did shitty work forcing me to seek one after another mechanic shop u til i finally found these guys-stop in there for repairs, oil changes-major/mi or work & you will give your own testimony-i found these guys by reading reviews on the net &i can o ly say that they had stellar reviews from all the write ups &thats what drew me in firstplace &now you get to read my review after they saved me $100s on repairs-buying them lunch from the $$ they saved me was my pleasure &i look forward to doing business with them in the future shd i ever need to-there ya go-thats all i can say-go see for yourself-they have nothing but repeat customers &now im one!

Russelll C

Feb 17, 2020 – Flint Twp, MI
Previous
Next